Whether your new address is just around the corner or across the state, FortWorth-movingcompany.com can be trusted to move you and your belongings with the consideration as if it were our own possessions. Locally owned by North Texas Police Officers from Policemanmovers.com, we are fully licensed and in compliance with all regulations as set forth by the Texas Department of Transportation.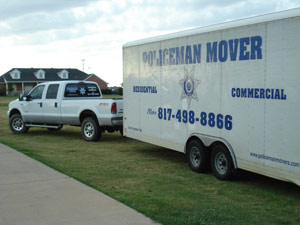 We provide moving and packing service to both residential and commercial clients throughout the state of Texas. We are proud to have earned the trust of thousands of happy Fort Worth residents for over 10 years.
The Fort Worth Movers team at Policemanmovers.com is staffed by reliable, skillfully trained moving professionals to ensure that your move is an easy one. Whether you are needing a residential move in Fort Worth, Texas, moving from one apartment in Fort Worth to another, or have an office move or commercial moving project, FortWorth-movingcompany.com moving company will provide you with an affordable and professional move. When trusting the men in blue to your move you can always rely on us for professionalism, integrity and reliability at a price competitive to the moving industry.
Why Consider Moving to Fort Worth, Texas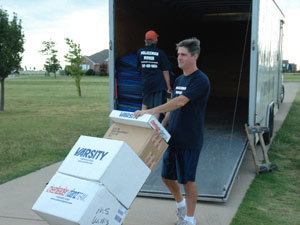 Fort Worth is the 16th-largest city in the United States of America and the fifth-largest city in the state of Texas. Located in North Central Texas, just southeast of the Texas Panhandle, the city is a cultural gateway into the American West and covers nearly 300 square miles in Tarrant, Parker, Denton, and Wise counties, serving as the seat for Tarrant County. According to the 2010 Census, Fort Worth had a population of 741,206. It has been estimated that by 2030 it will have 1,211,665 residents. The city is the second most populous in the Dallas - Fort Worth metropolitan area. The city was established in 1849 as an Army outpost on a bluff overlooking the Trinity River. Today Fort Worth still embraces its Western heritage and traditional architecture and design.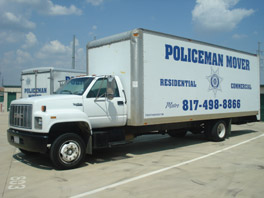 On March 28, 2000, at 6:15 pm, an F3 (some estimates claim an F4) tornado smashed through downtown, tearing many buildings into shreds and scrap metal. One of the hardest hit structures was Bank One Tower, which was one of the dominant features of the Fort Worth skyline and which had on its top floor a popular restaurant. It has since been converted to upscale condominiums and officially renamed "The Tower". Moving and storage companies all across Fort Worth rallied to aid in the relocation of many downtown residents and businesses as they coped with the need to move quickly to new buildings across the city. Many businesses and individuals used the services of local Ft. Worth moving companies like Policemanmovers.com. When oil began to gush in West Texas in the early 20th century, and again in the late 1970s, Fort Worth was at the center of the wheeling and dealing. In July 2007, advances in horizontal drilling technology made vast natural gas reserves in the Barnett Shale available directly under the city, helping many residents receive royalty checks for their mineral rights. Today the City of Fort Worth and many residents are dealing with the benefits and issues associated with the natural gas reserves under ground. Many businesses thrived, moving to Ft. Worth, bringing jobs and the need for many families moving to the city. Fort Worth was the fastest-growing large city in the United States from 2000 to 2006 and was voted one of "America's Most Livable Communities."
Whether you are moving across town or across the state, changing homes can be hectic, exciting and certainly stressful.

Rest assured you've come to the right place for assistance and information for your move in Fort Worth or to any city or town in Texas. Policemanmovers.com can take the stress out of your next important move.
817-498-8866
US DOT#2090836
Email: curtis@policemanmovers.com
Check out our moving company divisions in other North Texas cities
DallasResidentialMovers.com | FortWorthResidentialMovers.com
NorthTexasMovers.net | SouthlakeResidentialMovers.com